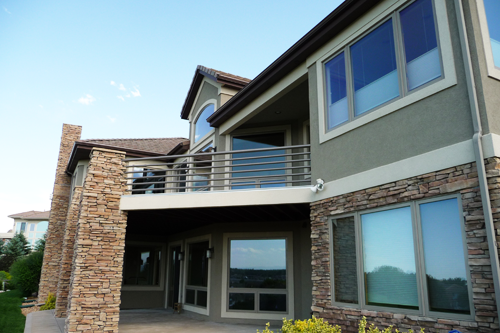 Rallo's Window Cleaning Services
Everyone wants to have their home or business looking its best. Dirt, prints, outside elements, and particles within can serve as a barrier from enjoying the beautiful Colorado scenery. Life is busy and it's hard to find the time or energy to keep your windows looking their best. No need to worry, that's why we're here. Rallo's Window Cleaning, Ltd. offers a multitude of services to meet your needs.
Email Us! Or Call (303) 503-3411
---
Services Offered For Both Residential and Commercial Cleaning
Windows - Inside and Out
Hand cleaned and scraped to perfection. All that's left is for you to enjoy the view.
Screen Cleaning & Repair
All screens are soaped down, scrubbed and hosed off, then dried in the sun before we put them back in.
Track Cleaning
One less thing that you'll have to worry about cleaning. A clean track will ensure proper window function. This is complementary!
French Panes
All those small panes can seem like a daunting task. No need for you to worry, we'll take care of it.
Mirror Cleaning
True beauty reflected. We'll make sure your image sparkles.
Skylight Cleaning
Enjoy the full spectrum of light with RWC's skylight cleaning service. We will get on the roof for you!
Cobweb Removal
Really, who likes doing this? We'll get into those tough-to-reach places so you don't have to.
Solar Panel Cleaning
We safely clean your panels with Pure Water & soft bristles to gently rinse the dirt away. Some have enjoyed an increase of 30% power output after a proper cleaning!!
Light Bulb Replacement
Rallo's Window Cleaning can replace out-of-reach bulbs so you won't have to. You provide us with the bulbs and we'll do the hard part of putting them in for you.
New Construction
New construction can leave things dirty and dingy. We can help your new business get off on the right foot.
Freezer Doors
Food particles can build up over time causing bacterial growth. Let us help sanitize your freezer doors to keep ingredients fresh.
Rain Protector Application
Our special rain protection application can help keep your windows cleaner for an extended period of time from the outdoor elements.